An Interaction Design Guideline for Extraplanetary Geology with the xEMU Space Suit Augmented Reality Display
In the next five years, NASA will have astronauts back on the Moon, conducting geologic fieldwork while on EVA (extravehicular activity, or spacewalks) in a regular cadence. These astronauts will wear the new Z-Suit EMU (extravehicular mobility unit) suit on EVA. This new generation of astronauts will need to operate with more autonomy, Earth-independent, without it impacting their productivity and safety. One of the core upgrades to previous EMU suits is the integration of a robust information system accessed via a helmet mounted display (HMD). Interaction with the system is facilitated via voice command and mid-air gestural input, effectively retiring the fabric buttons used for displays on the current suits. Furthermore, the spacesuit extends the astronaut's perception and presence in the field because of a responsive human-machine relationship, which provides contextual and timely content, communication, and controls. While the hardware capability is integrated into the Z-Suit, no design precedent has been set for user interaction and experience. With the permission of the NASA Z-Suit team, I undertook an HCI (human computer interaction) and Interaction Design project to design one of the seven core capabilities for this system, the management of field geology activities on EVA. This interaction design guidelines represents a synthesis of expert interviews, design, research, and usability tests in analog, The design decisions made here are informed by human factors, human computer interaction, systems engineering, gravity, geology, GIS, heliophysics, behavioral science, and human centered design. This manner of cross-disciplinary thinking is essential to the future of human space exploration because those who use it and exist in the interstitial spaces can create new connections and solutions for the complex challenges of living well, harmoniously, and productively in space.
Design Research
To understand the challenges of human exploration in deep space, I conducted the following design research activities:
Historic Research

Reviewed the transcripts and analysis of the lunar surface Apollo mission, several shuttle missions, and current ISS activities.

Analyzed the transcripts from the Congressional committee on Science and Space Technology to understand the government mandates and long term plans for space.

Scholarly Research

Reviewed recent research and discussions coming out of NASA, the HCI community, and academia in regards to human space exploration.

Subject Matter Expert Interviews

Interviewed NASA civil servants and astronauts, primarily in the Human Exploration Operations and Flight Operations directorates to better understand the problem space.

Build a panel of 40 field geologists to gather analog data from.
As research continued, I was able to build a map of the problem space and hone in on specific opportunities for a design engineering intervention. I quickly validated these opportunities based on their feasibility to be completed in a year by myself, their viability to actually impact the next five years of human space exploration, and their desirability to be implemented by NASA. These validations were made by comparing against NASA's goals, knowledge gaps, and calling the leadership most closely associated with those opportunities and proposing my collaboration. I honed in on the EVA (extra-vehicular activity) office, and specifically the field geology experience pretty quickly using this methodology.
How might we…
Based off of extensive design research into the challenges of human exploration in deep space, and identifying opportunities, I defined a high level grand challenge, and a specific problem statement that speak to the difficulties of operating Earth independent. Each of these address the need for robust, yet flexible systems that can succeed, or not hinder mission success in the face of technological failure, and be built on a shoestring budget.
Grand Challenge
How might we live safely & work productively in our solar system?
Problem Statement
How might we help astronauts be more productive with field work?
Iterative Design
Using the concept of operations, high level features for the augmented reality system were defined. Several rounds of sketching and rough prototyping with digital tools were conducted to flesh out the experience. These designs were translated into high fidelity mockups and conceptual videos to convey the experience for stakeholders. One of the challenges of current augmented reality technology is the lack of rapid prototyping tools for designers. To play with new methods of interaction and paradigms for displaying information, high level software development skills are needed. Since this was a solo project with the constraint of making everything individually, I did not make a full interactive implementation of the designs.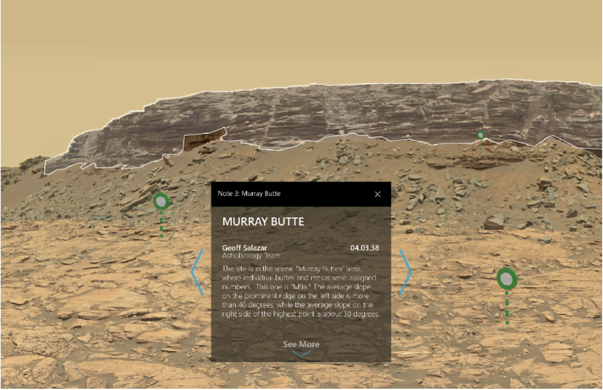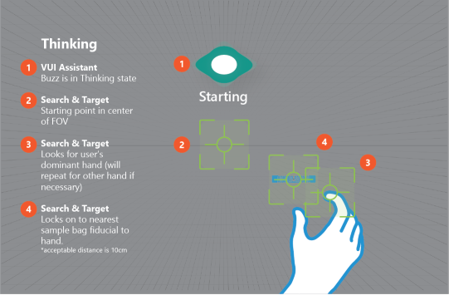 As a part of the design phase, I proposed designs for and rapidly pressure tested several input modalities for the augmented reality system. The two I most focused on were mid-air gesture and voice UI. In my process, I proposed the hypothesis that mid-air gesture is unsuitable for consistent usage on the Moon because of the effects of microgravity on an astronaut's sense of balance requiring the use of hands to over correct. Furthermore, this would not be a problem on Mars, but it did necessitate a reliance on a voice user interface assistant named Buzz.
Making an Interaction Design Guideline
In discussions with my NASA stakeholders, I learned that they were just about to write requirements for the software side of the augmented reality system for the xEMU spacesuit. I determined that the most useful artifact I could deliver to inform requirements was an Interaction Design (IxD) guideline, which provides high level design principles, which is useful for a technology with almost 0 precedents, and in-depth design features. This reasoning was made by learning about systems engineering processes and human systems integration activities, mostly consisting of human-centered design practices that are used in project and mission planning at NASA.
The final presentation for my graduate independent design engineering project can be found above. The final hand-off with the NASA EVA office has occurred and this work will go on to inform the design of future space suites and the astronaut experience on the Moon, Mars, and everywhere in-between.
Furthermore, from this project, I have launched an initiative called Arecibo, which aims to connect designs with opportunities in the space technology industry. Where this initiative goes is yet unknown, but I will be prototyping it in Harvard's innovation lab this summer.